The Pokemon Nuzlocke was a series on Jared's YouTube channel dmjared. It was a Nuzlocke Challenge of Pokémon FireRed. This would become Jared's most famous Nuzlocke, and created several iconic moments and characters that the channel is now known for, such as Nuptup the Vileplume.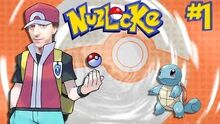 List of episodes
Edit
Warning: Spoilers below
Jared ended up winning his Nuzlocke, with Leebin and Nuptup the only two survivors remaining in his party. His other party members that made it to the Elite Four were Q, Farf, Idilsor and Stellar. He also had two Pokémon still in storage. Gworvan and Wiggleywoo.
Controversy
Edit
In episode 20 "Disaster", the game crashed, losing some of Jared's grinding. Later on (and not shown during the YouTube version), the game crashed again, however was much more significant as Nuptup had died between the last save and the crash. Jared continued playing and kept Nuptup alive anyway despite some concern from the community. According to the Nuzlocke rules, if a game crash occurs, it is the player's choice to decide whether the events that occured must still be enforced or not.